Mountain Rescue
Mountains of Guatemala - bordering Honduras
ABOUT THE PROJECT
With such exclusions from the outside world, timing to find families such as these is the highest priority for the organization Hope of Life. Death is not unfamiliar to families who live in the ranges, but it is not an option for the organization who sends scouts on a daily basis through the unforgiving terrain until they find one in need.  Once a family has been located and an assessment has been made to determine the severity of their condition, counselling begins for the parents of the children who most probably would not see another winter.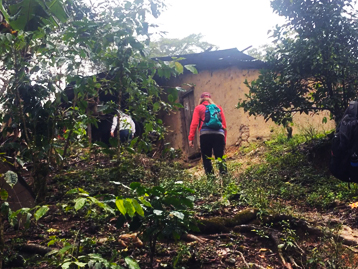 This particular rescue was an experience never to be forgotten.  Two children, Yorleni Marisol Recinos and Alba Azucena Ramirez, ages 25 days and 2 years respectively.  Both families knew that their little ones might not last until their next birthdays so they had agreed to allow their children to be brought to Hope of Life's St Luke's Hospital for immediate care until full recovery.  Afterwards; however, it is up to the parents to decide what will happen to the children; placing them in the orphanage where they will be educated,  and well fed, or sending them back to the remote village 3 hours away on a diet of corn.
I stayed in the ambulance with the two mothers and their daughters while cradling the 25 day old baby without a name at the time, from the rocky hills on the way down while Maria the 17 year old mother of the baby laid on the bed, clearly lethargic.  They spoke to me about the problems and challenges they face every day.  The biggest challenge is healing from unavoidable sicknesses with no access to clean water or medicine.
These women labor each day in the cornfields and coffee plantations.  Coffee which was once theirs, but since bought out by exporters, are subjected to sub-par fields where they only grow corn...workers on their own land...
I assured them that the causes of sickness from water would cease. Our mission in the mountains is to ensure that families such as theirs, have access to fresh, clean bacteria free water, no matter where they get it from.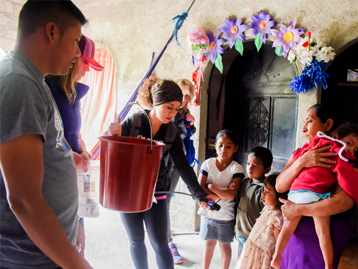 LOCATION
Traveling three hours from Zacapa, Guatemala, deep in the mountains bordering Honduras the landscape is breathtaking.  First by truck, then on foot to reach our destination.  A lonely house with 9 children, mother, father and grandmother.  All with no access to water save for a muddy brook near by...equally breathtaking.
DONATE & MAKE A DIFFERENCE